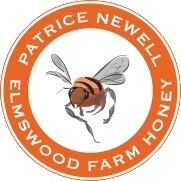 Each glass jar of ELMSWOOD HONEY is 400ml
Three jars per box.
The bees are as excited as we are this season, with so many plants flowering after years of drought.
Our bees are part of the family. The honey we extract is always in small lots as we try to make sure we always leave enough for the bees. After all they make the honey for themselves. It's their energy source.
This summer has provided an abundance of ground flora and garden plants; poppies, fennel, verbascum, lavender, clover, lots of grasses, crepe myrtle to name a few.
Plus native plants; eucalyptus, callistemon, melia, acacia, angophera.
Every frame of honey is unique.
No chemicals are used in the production of our honey.
No heating is used during extraction and jarring.
All hives are managed on Elmswood Farm by me!
Read more about Elmswood Honey here.
Enjoy,  Patrice