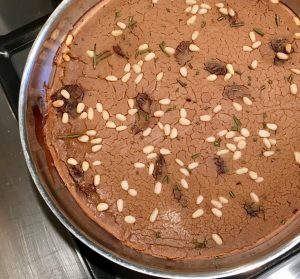 My Favourite Winter Cake with Olive Oil, Fresh Chestnut flour and NO extra sugar!
6 Tablespoons VIRGO Olive Oil,
4 Cups Chestnut Flour,
1/2 Cup Raisins,
Sweet Wine to soak the raisins in,
2-3 Cups Water,
Pine Nuts,
and fresh rosemary sprigs.
Lightly grease a 9 inch spring-form pan or equivalent ( I like it wide and thin )
Soak the raisins and sweet wine and allow the raisins to plump for 10 minutes, then drain and drink the wine.
In a large bowl combine chestnut flour, 2 tablespoons of the olive oil, raisins and 2 cups of the water.
Whisk until smooth adding additional water as needed until the mix is wet like a pancake mix. Pour into the prepared tin and sprinkle the pine nuts and clipped rosemary on top.
Drizzle with the remaining 4 tablespoons of olive oil and bake for about 45 minutes or until the cake is set and lightly browned on top.
This almost has a pudding texture and you'll note there is no sugar! It doesn't need it because the chestnuts are so sweet but sometimes we drizzle honey over it too!